This article is a review from Mr. Cher (twitter @cher_adds).
Author: Cheru (@cher_adds)
Original article: https://chercheur-sexe.blog.jp/archives/18392030.html
Twitter URL: https://twitter.com/cher_adds/status/1585466787852058624?s=20&t=kgZH0s6t9MsLIuQeHdmu4A
*This article is a review provided by TaRiss's (Twitter: @tariss_s ).

A new genre has been added to my anal goods♪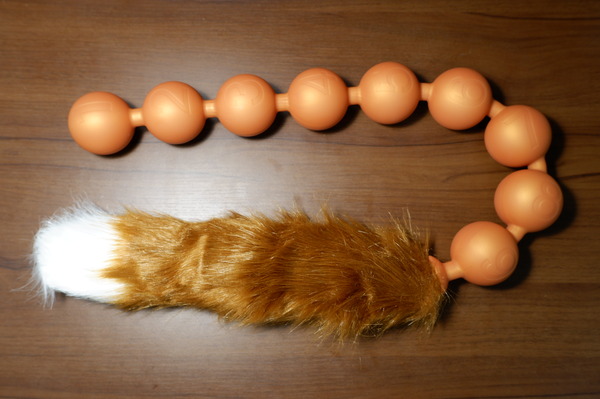 Anal beads with a tail.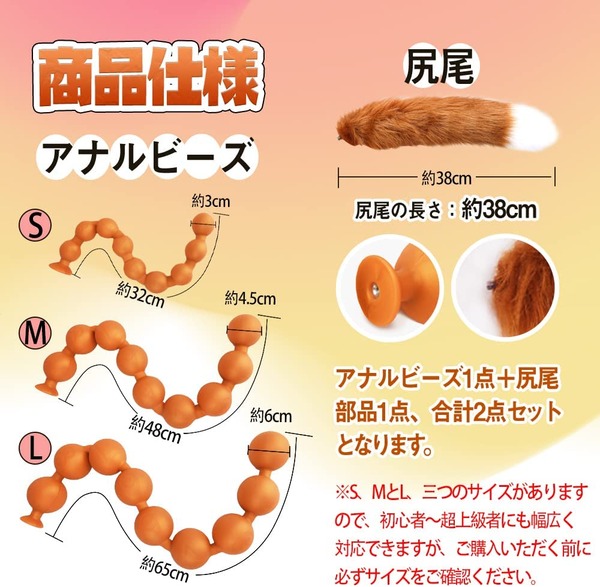 There are sizes S, M, and L, and the diameter of the beads is 3 cm, 4.5 cm, and 6 cm, respectively. Each size has 9 beads, but the total length is different: S size is 32 cm, M size is 48 cm, L size is 65 cm. The size I got was L size.

By the way, the tail can also be removed. Even if lotion etc. adheres, only the tail can be washed, so you can keep it clean.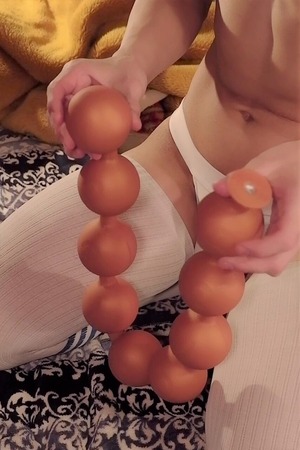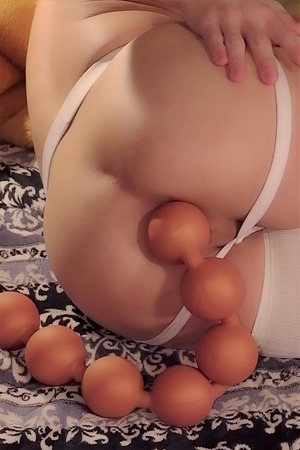 Please see the video at the bottom of the article for reference.

The L size I chose has an insertion length of 65 cm, excluding the tail, so if you insert it straight, it will reach the upper part of the descending colon (I think it won't go all the way to the transverse colon because the intestine stretches considerably). think).

However, as you can see when you actually use it, it takes a lot of skill to remove the colon from a bead of this size in the first place. If you do not remove the colon on a daily basis, it is almost impossible to insert it straight into the colon.

At least, those who have never had a colonectomy will not be able to do it with these anal beads. I myself felt keenly that if I was going to insert it into my colon, I would need to train with a thinner one.

However, if you have a large rectum dilation instead of a colonectomy, you may be able to fit all nine beads into your rectum. So far, my limit was 5 (4 in the video), but I have a goal of expanding it so that I can swallow it whole (laughs).

By the way, as a tip when inserting, first pour lotion into the rectum, and then apply lotion to the anal and this anal bead. Then, when inserting the second, third, and so on, release the tension in the anal and expand the belly. In addition, if possible, keep your head lower than your buttocks and bend your back as much as you can without forcing yourself to push in with your arms.

Also, before inserting this anal bead, I think that it will be easier to insert it if you get used to the anal and rectum with a thicker dildo or plug.




---

If possible, I wanted to insert everything in the video and do a tail wagging, but I still lacked the strength (´ . .̫ . `)

I'd like to put out a video again when I can insert everything.