This article is a review from Mr. Cher (twitter@cher_adds).
Author: Cheru (@cher_adds)
Original article: https://chercheur-sexe.blog.jp/archives/9487007.html
Twitter URL: https://twitter.com/cher_adds/status/1388040734276685826?s=20

I usually use a plug with a diameter of 6 cm and TaRiss's gold angle XXXL .
Where I wanted to leave it in, but I wanted something in the middle
TaRiss's asked me to review "Devil's Seed"
It looked like an interesting product, so I accepted it.


Color and size development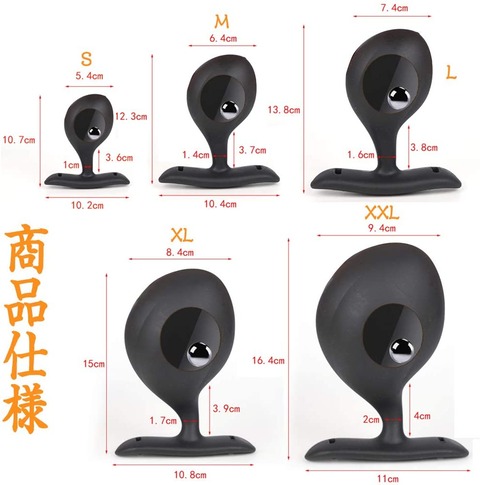 Two colors, black and rose gold
The size development is as above, and you can choose whether or not to have a ball for each.

I chose the L size with a black ball this time.


feature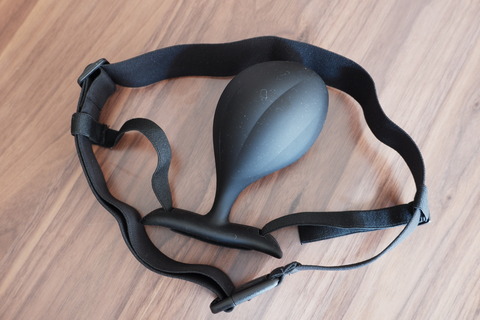 The first thing that catches your eye is that it has a nylon rubber belt.
The idea is that this belt can prevent the plug from falling off.
It's removable, so you can use or not use the belt.

Once inserted, the sphincter is hardly dilated.
Because it has a shape that expands mainly the rectum
It may be harder to remove than to insert (because the sphincter muscles return after long periods of insertion).

The surface is made of liquid silicone that is smooth and comfortable to the touch.
The texture is very good.

Push your finger in and you'll find a hard chamber inside.
If there is a ball, the ball is inside this
You can enjoy the impact created by rolling or colliding with the intestinal wall.

There is no axis in the constriction and the base, so it does not stand on its own.


actual usability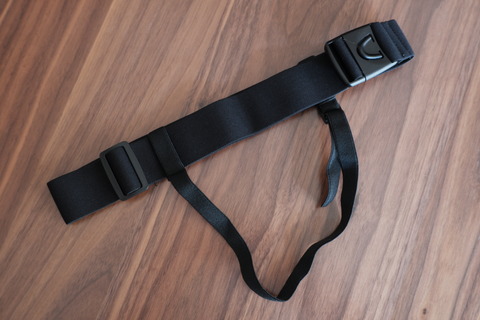 For the time being, I have some feelings about the belt.
(Overall negative impressions.)

①
It is quite difficult to use because the belt on the front side is not bifurcated.
Whether it's a woman or a man, this will pass over the genitals.
The belt will dig into your genitals.

②
Compared to the waist belt, the crotch belt that passes through the plug is thin and stretches too much.
Even if it is attached and used, it won't do much for fixing.

And if you can adjust the length of your waist or crotch
I don't think this belt needs to be rubber in the first place.

③
Since it is a removable belt, I actually tried to remove it, but to be honest, it is quite troublesome.
The friction between the liquid silicone material of the plug and the nylon material of the belt is strong.
It was not something that could be removed quickly.
If you want to use the belt firmly, I think it should be easy to remove.

④
The belt loop holes on the front and back of the plug base are reinforced with metal rings.
Also, the front and rear rings are connected with a string.
It has been devised so that the pedestal will not tear even if the hole is pulled.

It's very good in itself.
But due to the structure of the belt, the hole will not be pulled.
Doesn't this make a lot of sense? I thought.

⑤
Finally, and this is the crucial point
Limited to those with little constriction or considerably thick constriction
A fixing belt is required to prevent it from falling off.
Since this plug is tightly waisted, you probably won't need a fixing belt in the first place.

For these reasons, I didn't use a belt when using this plug.
It would be more rational to abolish the belt and eliminate the complicated construction of the pedestal to reduce the cost.

-----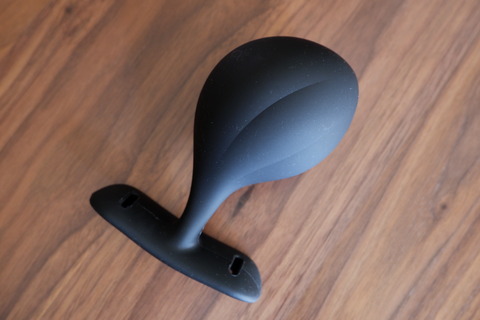 Now for the all-important plug
As you can see from the image, it's getting thicker from the head, so it's a little difficult to insert.

In my case, I first loosened the anus with a 6 cm diameter plug and then challenged it.
I tried to insert it with my hand while standing, but it didn't go in.
When I sat down and pressed it, I was surprised that it came all at once (laughs)

I was wondering what kind of presence the 7.4cm had.
As expected, the feeling of expansion is stronger than 6 cm, but I could endure it for a long time.
Well, I have already penetrated the gold horn XXXL (maximum diameter 10.5 cm)
It may be this kind of impression (lol)


It was the first time for me to use a plug with a ball inside.
The vibration that the ball rolls around is quite interesting.

With a normal plug, after a certain amount of time has passed since it was inserted,
My intestines are getting used to it, and I can't really feel the presence itself.
This plug does not lose its presence thanks to the vibration of the ball.

Even with a slight movement, a rumbling vibration is transmitted to the rectum.
If you have a highly sensitive rectum, I think this vibration alone will do the trick.

Also, thanks to the thin constriction and the smooth texture of liquid silicon,
It's nice that it doesn't hurt even if you insert it for a long time.


in conclusion
I don't really understand the design concept of the belt, so there is room for improvement.
The plug was quite satisfying to use.

Criteria for size selection
If you want to be inserted for a long time, or if you want to go out and play (laughs)
It is recommended to use a needle that is 2-3 cm smaller than the maximum diameter that you have experience inserting.
For short periods of time, anything close to your limit is fine.

Also, for the time being, you can choose to have the ball on or off.
I think it's better to have a ball for me!

Go out with it inserted
I strongly recommend it to perverts who want to secretly get comfortable in front of others (laughs).