This article is a review from Mr. Cher (twitter@cher_adds).
Author: Cheru (@cher_adds)
Original article: https://chercheur-sexe.blog.jp/archives/8378003.html
Twitter URL: https://twitter.com/cher_adds/status/1349197292360790016?s=20
I've been developing my prostate and nipples for the past year, and I haven't done anal expansion, but recently I've been wanting to expand again, so I bought a new toy☆


Unknown region >10 cm diameter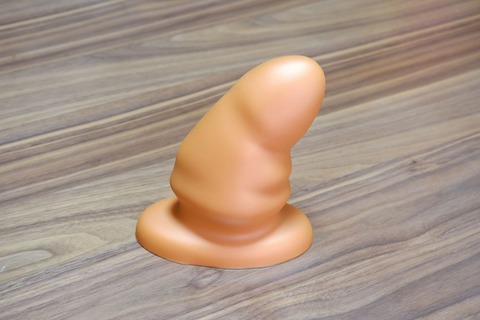 TaRiss's gold horn anal plug, maximum size XXXL.
Please check the detailed dimensions from the product page .
Roughly speaking, the maximum diameter is 10.5 cm and the insertion length is 14.8 cm.

When it comes to this level of diameter, there are a large number of ones with an insertion length of over 20 cm, and relatively short ones like gold horns are valuable.

Since the purpose is to expand the anus (and rectum), this short length was sufficient.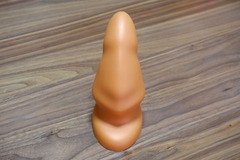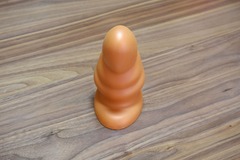 The maximum diameter when viewed from the side is 10.5 cm, but the maximum diameter when viewed from the front is 8 cm.
So when you insert it, the anal spreads in an oval shape instead of a circle.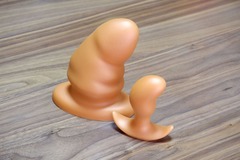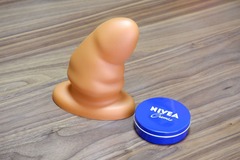 It's hard to convey the sense of size by itself, so I put TaRiss's bean-shaped anal plug M and Nivea's medium can.
Click here for bean-shaped anal plugs ↓

By the way, as for my expansion history, I have the experience of penetrating Einas Stopper 5 (maximum diameter 8 cm), which is the largest size.
I have also done anani with a dildo with a diameter of 7 cm.
So, even now, if I loosen it up a little, I can easily do a self-fist.

Although I was a little worried, I chose XXXL because TaRiss's material is very soft and I thought it would be possible to insert it even though the maximum diameter is 10.5cm.

Even if you insert the gold horn, there is enough diameter even in the constricted part, so it seems that you can spread the anus well.

When I met him for the first time, I laughed louder than I had imagined, but when I imagined such a big thing entering my anus, my stomach was squealing with anticipation... (laughs)

usability
Thanks to the softness of TaRiss's as usual, the feeling of insertion is quite gentle.
However, the maximum length is 10.5 cm, so I felt a lot of pressure, and I was very excited when I thought that my anus had spread that much.

The first time I inserted it, I couldn't pass through the maximum diameter part, but I thought, "It's surprisingly good...", probably because the diameter spreads slowly.
I don't want to tear or feel pain, so I want to do it a number of times and loosen it (laughs).

So I think I'll be able to swallow it completely in the near future
I would like to say to TaRiss's, "A bigger size!" I had a feeling.

Well, if it actually penetrates, the way I feel may change again, so I may write my impressions again after it penetrates.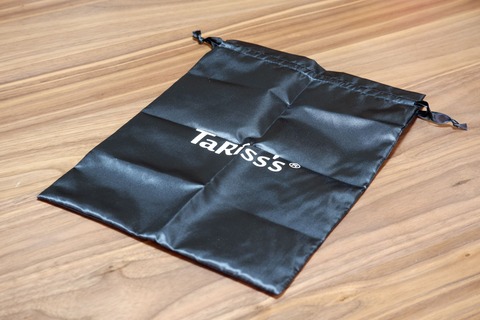 By the way, it comes with a storage bag.
Thank you.